The Local Crisis Team responds quickly to phone calls and within 24 hours to see someone face-to-face.
A crisis can include difficulty dealing with stress, overwhelming feelings, symptoms of depression, anxiety or psychosis, suicidal thoughts, or any concerns regarding your mental health or that of your loved ones.
If It's A Crisis To You, It's A Crisis To Us.

THE MENTAL HEALTH CRISIS SERVICE
There are two components to the Mental Health Crisis Service:
MENTAL HEALTH CRISIS LINE
Is the first point of public access to the mental health crisis response system.
Serves people 16 years of age and over.
Provides toll-free telephone access in both French and English, 24 hours/7 days a week.
Is staffed by trained volunteer Crisis Line Responders, supported by professional staff.
Provides screening, assessment, referrals, support in a crisis, suicide intervention and transfer to the Local Crisis Team or to emergency services when advisable.
The Local Crisis Team can generally respond within minutes to phone calls and within 24 hours to see someone face-to-face.
The Local Crisis Team works closely with emergency services such as hospital emergency departments, police, doctors and other community agencies to ensure a safe and comprehensive response.
Services include crisis intervention, assessment, consultation and links to community supports in a least intrusive approach to enable individuals in crisis to receive services in their own environment.
Consultation and advice can be provided to family members.
Follow-up and support services can be provided to help resolve the crisis.
The Local Crisis Team includes registered nurses, social workers, crisis counselors and other health professionals.

The Crisis Line can be reached 24/7 by calling
613-722-6914 (within Ottawa) or Toll-free 1-866-996-0991 (outside Ottawa)
Your call will be answered as quickly as possible. On average, clients will have their call answered within 2 minutes, and will wait no longer than 10 minutes. The Volunteer Crisis Line Responder will offer support and, if required, can make a direct transfer to the Local Crisis Team with your consent (which includes providing your name, date of birth and phone number).
When speaking with the Crisis Line Responder, you will be asked to provide all relevant information about the crisis:
What caused the current crisis? Is there one particular event?
What triggered your current emotions or feelings?
Are you alone or with others?
Are you currently injured?
Is this a situation that can be worked on over the phone?
Provide names of friends or family as available.

The Mental Health Crisis Line is available in the following areas:
Please use the drop down menu of your region to view your city or town
Alfred
Bourget
Casselman
Cheney
Chute a Blondeau
Clarence
Clarence-Creek
Curran
Embrun
Fournier
Green Lane

Hammond
Hawkesbury
Lefaivre
Limoges
L'Orignal
Marionville
Pendleton
Plantagenet
Pleasant Corners
Riceville
Rockland

Russell
St. Albert
St. Bernadin
St. Eugene
St. Isidore
St. Pascal
Ste Anne de Prescott
Ste Rose de Prescott
Treadwell
Vankleek Hill
Wendover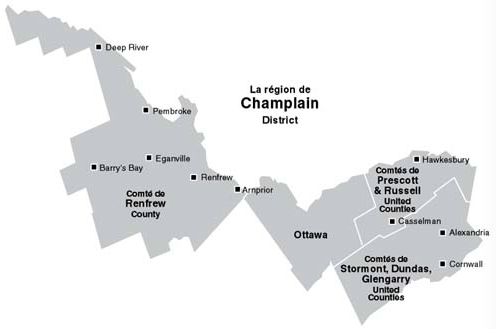 Akwesasne
Alexandria
Apple Hill
Avonmore
Bainsville
Berwick
Bonville
Brinston
Chesterville
Cornwall
Crysler
Dalkeith
Dixon's Corners
Dundela
Finch
Froatburn
Glen Becker
Glen Nevis

Glen Robertson
Glen Walter
Gravel Hill
Greenfield
Green Valley
Ingleside
Inkerman
Iroquois
Laggan
Lancaster
Lochiel
Long Sault
Lunenburg
Martintown
Maxville
McCrimmon
Monkland
Morrisburg

Morewood
Moosecreek
Mountain
Newington
North Lancaster
Osnabruck Centre
South Mountain
Spencerville
Stampville
St. Andrew's
St. Raphaels
Summerstown
Warina
Williamsburg
Williamstown
Winchester
Winchester Springs

Ashton
Barrhaven
Bells Corners
Burritts Rapids
Carlsbad Springs
Carp
Constance Bay
Cumberland
Dunrobin
Edwards
Fitzroy Harbour
Galetta

Gloucester
Goulbourn
Greely
Kanata
Kars
Kenmore
Letrim
Manotick
Metcalfe
Munster Hamlet
Nepean
North Gower

Navan
Orleans
Osgoode
Ottawa
Richmond
Rideau
Rockliffe Park
Sarsfield
Stittsville
Vanier
Vars
Vernon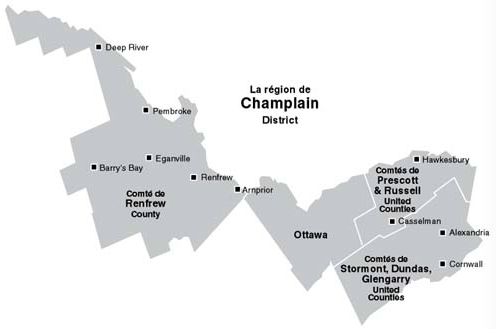 Alice
Arnprior
Balaclava
Barry's Bay
Barryvale
Beachburg
Bissett Creek
Black Bay
Bonnechere Valley
Braeside
Brudenell
Buchanan
Burnstown
Calabogie
Castleford
Chalk River
Chenaux
Cobden
Combermere
Cormac
Cotnam Island
Dacre
Deacon
Deep River
Deux Rivieres
Dochart

Douglas
Eganville
Forester Falls
Foymount
Fraser
Golden Lake
Griffith
Hagarty
Hardwood Lake
Haley Station
Horton
Hyndford
Kelly's Corner
Khartum
Killaloe
Lake Clear
Lake Dore
Latchford Bridge
Laurentian Hills
Lochwinnoch
Madawaska
Matawatchan
Micksburg
Mackey
Mount St. Patrick

Osceola
Palmer Rapids
Pembroke
Pembroke Island
Petawawa
Point Alexander
Quadeville
Rankin
Renfrew
Rockingham
Rolphton
Round Lake
Sand Point
Schutt
Shady Nook
Shamrock
Springtown
Stewartville
Stonecliffe
Tramore
Waba
Westmeath
White lake
Whitney
Wilno
Wylie